The Petter AB1 engine is an air-cooled four-cycle, overhead valve, compression injection engine with an air cell combustion system. It has a die cast aluminium alloy crankcase with integral bellhousing, detachable aluminium sump and a cast iron cylinder. The cylinder head is die cast aluminium with cast iron valve seats and guides. The crankshaft is forged steel with aluminium/tin shell bearing. A forged steel connection rod is used and an aluminium piston. The engine is lubricated with an integral oil pump. A centrifugal cooling fan mounted on flywheel cools the engine via fins on the cylinder and cylinder head. The flywheel is suitable for extension shafts and clutches for example. An 11 U.S. pint (5.2 litres) fuel tank is mounted to the engine. An exhaust silencer is fitted to reduce engine noise. Fuel, lubrication oil and air filters are easily replaceable. A decompression lever is fitted to reduce the engine compression when starting.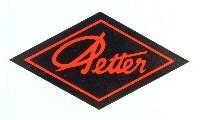 Technical Data:
Model
Petter AB1
Year Manufactured
1967-1986 (Approx)
Bore
3in (76.2mm)
Stroke
2.25in (57.15mm)
Cubic Capacity
15.9in3 (261cc)
Compression Ratio
16.25:1
Fuel Tank Capacity
11 US Pints (5.2L)
Fuel Type
No 2 Diesel
Lubricating Oil Capacity
4US Pints (1.9L)
Lubricating Oil Types

SAE 5W below 15F (-9.5 C)
SAE 10W up to 90F (32.2 C)
SAE 20/20W above 90F (32.2 C)

Lubricating Oil Consumption
0.047US Pints/hr (22ml)
Dry Engine Weight
98lbs (44.5kg)
RPM
3000/3600
HP
4.5
In April 2006, I purchased a Petter AB1 engine (shown below).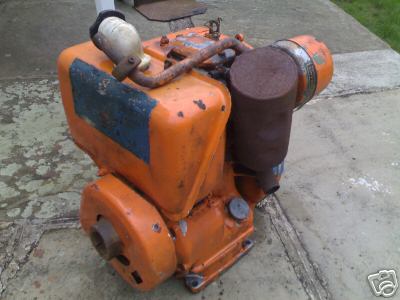 Click here to see photos of the engine been cleaned and repainted.
The Petter AB1 was also available as a standard water-cooled engine, which was named AB1W, and water-cooled marine engine called AB1WM.

The Petter AB1 diesel engine is related to the Petter AA1 engine that was smaller in capacity, and the Petter AC1 and AD1 engines that were greater in capacity.
Page hits: